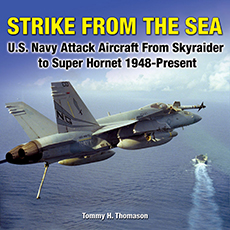 Click to view on Amazon
Strike from the Sea: U.S. Navy Attack Aircraft from Skyraider to Super Hornet 1948-Present celebrates carrier-based air-to-ground attack aircraft that were introduced just before the Korean War, reached maturity during Vietnam, and are deployed today throughout the world. Well-known author and naval aviation authority Tommy Thomason not only explores such legendary Navy aircraft as the A4D Skyhawk, A3J Vigilante, and A-6 Intruder, but also the critical role of the aircraft carrier itself, for without these massive floating airfields, U.S. Navy attack aircraft would have no sea-borne bases from which to operate.
Armament from gravity bombs to today's GPS-guided smart weapons are covered in great detail, and this book also explains that while many different types of airplanes were required for flying attack missions in the past, only one aircraft family – the F/A-18 Hornet – is deployed to carry out these same missions in an even more complex and hostile combat environment today.