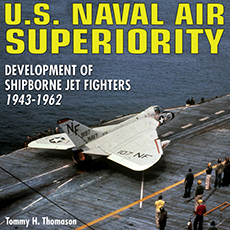 Click here to view on Amazon
As World War II came to a close, piston-powered fighter aircraft were at their zenith, and Navy fighters, such as the Grumman F6F Hellcat and Vought Corsair, dominated the skies over the Pacific. As these fighter designs reached their peak, a new propulsion technology was being developed that held great promise. When introduced, the first jet aircraft were underpowered, and in many ways inferior to propeller-driven aircraft of the time. Naval Air Superiority examines the Navy's struggle to adapt the jet engine to its style of warfare as well as the development and evolution of carrier-borne fighters and their airframes and engines, from the closing days of World War II through Vietnam.
For the first time, U.S. Naval Air Superiority profiles the turbulent design and development stage of the Navy's carrier-based jet fighter program. From the successful designs, such as the Fury, Banshee, Crusader, and Phantom II, to the also-rans, like the Fireball, Pirate, and Cutlass, the Navy's needs are compared to its contractor's proposals and the limits of the evolving engine and aerodynamic technologies of the day.
This book includes individual program summaries and aircraft-to-aircraft comparisons, as well as detailing changes and improvements made to aircraft carriers to enable higher speed and gross-weight jet operations.